Fusion Guitars is a sound library that blends four layers of different guitars to create a variety of sounds, ranging from chill and ambient to lo-fi and oriental.
Rather than imitating traditional guitar sounds, the Fusion Guitars library was created with the purpose of generating inspiring sounds using guitar recordings.
The key point of the library lies in the combination of inspiring sounds for a wide range of styles, such as lo-fi, hip hop, ambient music, and oriental music, among others.
Fusion Guitars features a four-layer guitar processor: nylon, acoustic, electric, and electronic bow.
Each layer contains multiple guitar recordings to choose from a different sub-type, such as harmonics, open strings, muted, etc. In total, the library contains 71 guitar recordings.
In addition, the "randomizer" function button allows for randomly changing the layers to obtain different sound combinations.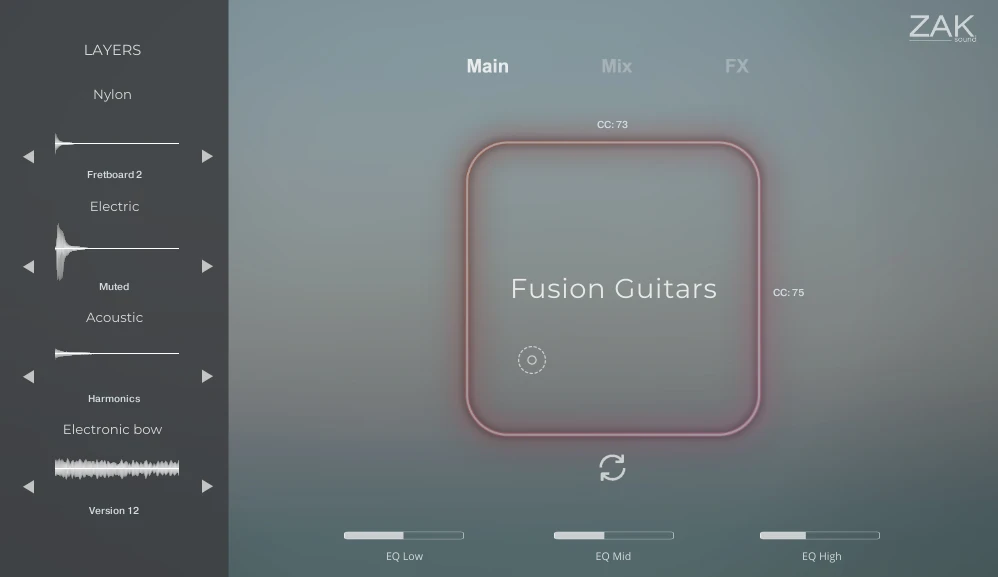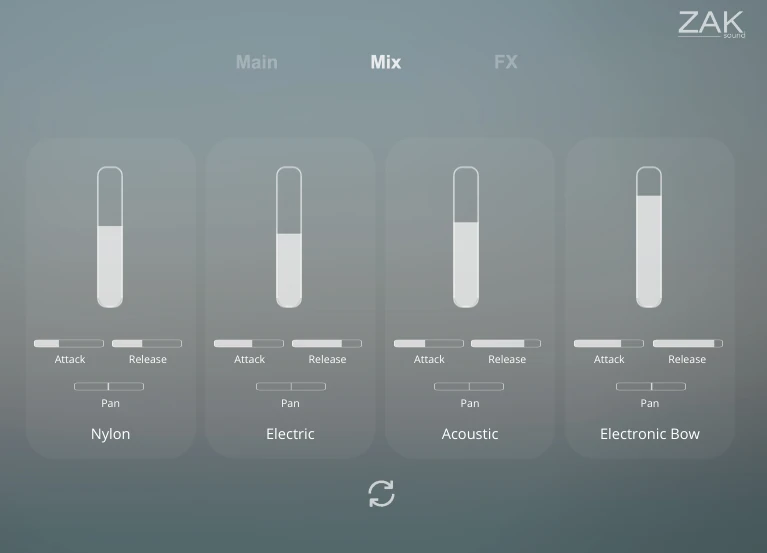 Controls of volume, panning, attack, and release for each layer to obtain different results. There is also a randomizer function to modify these parameters randomly.
There are six effects available in the FX panel, including chorus, reverb, delay, distortion, stereo width, and limiter.
We created 61 snapshots using different layers and parameters of the library.
They are divided into five categories: ambient, chill, lo-fi, miscellaneous, and oriental.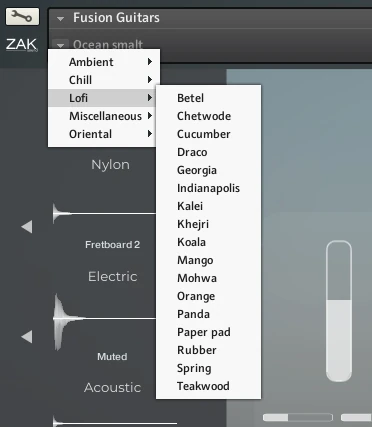 Four-layer processor.
71 guitar recordings.
61 snapshots.
Randomizer functions for layers and mixer.
Chorus, reverb, delay, distortion, stereo width, and limiter effects.
XY pad filters.
126MB.
Kontakt 6.7.1 or higher (full version); it will not work with the free Kontakt Player version.
4GB of RAM
126MB of free storage space
You need to have Kontakt 6.7.1 or a later version. Please note that it is only compatible with the full version of Kontakt and won't work with Kontakt Player (the free version).
The purchase includes the download of the "Fusion Guitars" library for Kontakt.
Orders are processed through FastSpring. The download link will be available for 7 days. If for any reason you need to download it again after this date, please contact us and we will give you access again.